Video Creation, Editing, and Enhancement


Free Video Makeover
Understand your needs and make it real.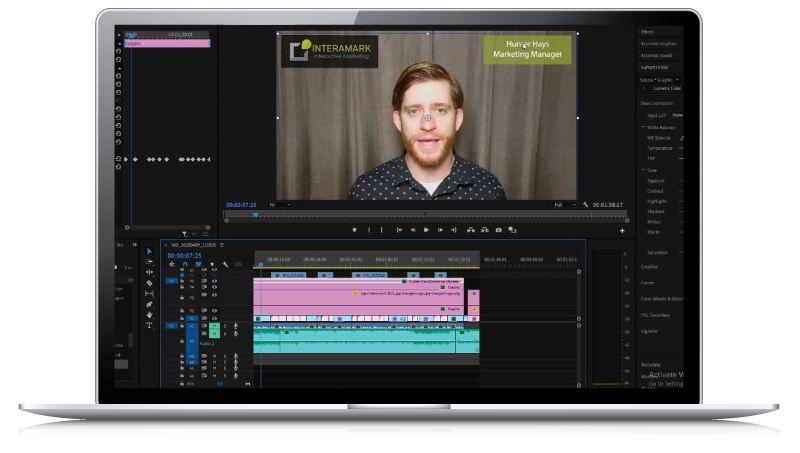 Get your free video makeover
If you make your own videos, Interamark will help you get started by providing a free (limited to 4 hours of work) makeover of your video. We will improve the audio and visuals including:
Color Grading
Colour grading is a post-production technique that enhances your photos/videos by changing their colour. An image that seems more appealing and refined is the outcome of a good colour grading procedure. It is what lends a video a polished appearance.
Special Effects
We can tell a better, more interesting story with the use of visual effects and special effects in videos.

Special effects (SFX) are deceptions or optical illusions produced to replicate imagined events in a narrative or made-up universe. Videos' special effects can be effective storytelling devices. They are therefore often utilised in the theatre, film, television, and video game industries.
Logo Animation
Users now encounter logos more frequently than they did in the past thanks to increased digitalization. Any social media profile, website, or advertisement will have a logo. As brand logo visibility rises, so do the ways in which businesses present them. Logo animation has grown over the past few years, and more and more companies are considering animating their logos.
Title Animation
Animations and other effects can enhance user experience and add visual appeal to your designs when applied appropriately.
Captions
More engagement can be generated via compelling captions, and the Social media is quite important for this. Strong language in your caption helps your followers understand they need what you're offering by defining your brand's narrative and personality.
Outro Animation
In web design, animations are frequently used to direct the user's attention to a particular region. The primary tagline with the action buttons is one area you want to emphasise.
The right colour scheme and effective typography should do the trick. However, we made the decision to add a little flavour to the proceedings by developing some text effects that you can easily use in the introduction section of your online projects.
Composition
Composition, or how you decide to frame the video you're about to record, is crucial for both still photography and video.

The Rule of Thirds is one of the most fundamental compositional guidelines. When utilising Live View on the LCD screen to peek through at your subjects, visualise a tic-tac-toe grid covering the scene. Note the point where these lines converge. These crossing locations are said to be the best places to put your topic according to the rule of thirds.
Generally speaking, doing so will produce a pleasing and well-balanced piece. Aim to position your camera so that your subject is visible where two lines intersect.
REQUEST A FREE VIDEO ASSESSMENT
Enter your details we will contact you with in 24 hours