What is SEO?
SEO stands for 'Search engine optimization', is the process of improving the quality and quantity of website traffic to a website or a web page from free, organic, or natural search results in search engines. It aims to boost your website's ranking in search engine results pages.
Some of the most important aspects of Search Engine Optimization (SEO) are On-Site Optimization, Keyword Research, Competitive Analysis, Blog & Content Creation, and Link Building.
Benefits & Importance Of SEO:
Increased Website Traffic
Generates More Leads
Increases Brand Visibility
Builds Trust
Higher ROI


How SEO Can Benefit Your Business?
SEO has the potential to bring more organic attention to your business. search engine optimization (SEO) can provide businesses with many benefits, including Organic Search Traffic to your Website, Generating More Leads, Increasing Brand Awareness, and Building Trust.

The best SEO companies will understand and implement SEO best practices and you will notice increased business growth and higher engagement.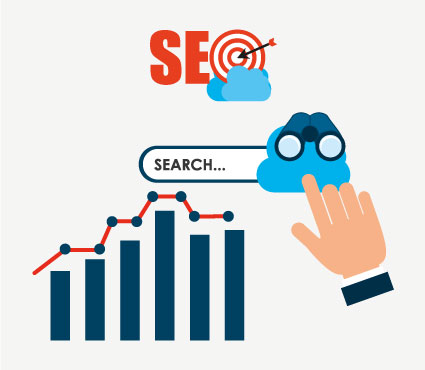 SITE AUDIT, KEYWORD AND COMPETITIVE ANALYSIS
Site Audit-
We check your website for duplicate content, broken links, and technical issues.
We analyze the health of your website.
We provide you with a list of issues that make it easy to see what exactly your website is missing.
Keyword Analysis –

Keyword analysis is the process of analyzing the keywords or search terms that are relevant to your business and bring visitors to your website through organic and paid searches. It is one of the most important steps in the SEO process.
We help you decide which search terms are worth targeting.
We provide you with the perfect target keywords that your website should go after.
Competitive Analysis-
This includes identifying your competitors, and evaluating the strengths and weaknesses of their products and services.
We give you a complete picture of your and your competitor's website's online presence.
We provide you with keywords, search terms that your competitors are ranking for and you're not.
ON-PAGE, AND TECHNICAL
(OFF-PAGE) ANALYSIS
On-page SEO-
We optimize the pages on your website to improve your website's ranking and user experience. A well-optimized page helps Google understand what the content is about, which helps it organize and rank your page better.
We work on the elements like title tags, HTML code, images, internal links, and meta descriptions.
We provide you with content optimization ideas.
Off-page SEO-
We optimize the elements outside your website and that includes backlinks and social media.
Link Building - We help you build the best links that will bring traffic directly to your website as well as boost your trust in the eyes of Google.
Social Media – We help you to create posts and monitor their performance, benchmark your progress against your competitors.
Technical SEO-
We optimize your website's code so that google sees your website as more authoritative. We do this by :
Designing a mobile-friendly website.
Designing a website that loads quickly on both desktop and mobile.
Secure your website by installing an SSL certificate.
Implementing an XML Sitemap.

Local SEO & It's Benefits
Local SEO is a practice that helps local businesses to improve their visibility in Google's local search results. We help your business be more visible in local search results on Google and we do that by
Optimizing your Google Business profile
Finding local keywords
Creating locally relevant content
Benefits of Local SEO:
Customers looking for your product or service can find you easily.
Bypass your local competitors.
Increased number of phone calls from the buyers.
More high-quality traffic on your website.
Reach your target audience better.
Continuous business growth.